Overy Staithe SC started their 2022 Open Meeting season with a weekend event held over 30 April and 1 May for the 12m2 Sharpie and Europe classes.
Making the most of the tide times, Saturday's races were on the evening tide, with Sunday on the morning tide. Winds were light on Saturday evening and lighter still on Sunday but Race Officer Rodney Tidd, assisted by Jeremy Neville-Eliott, managed to get four races in over the two days. The light winds meant there was no chance of going out to sea due to the strong tidal current pushing over the bar.
In the Sharpies, OSSC members Ben and Paul Goakes took the first race on Saturday evening, with another OSSC boat, sailed by Alex Smith and Paul Beachall, taking second place. These results were swapped over for Race 2.
Race 3, sailed at 7.30am (home in time for breakfast!) on Sunday morning saw Team Goakes take line honours with Martin Read (WSC) in second place.
The final race was to be the decider – Smith and Beachall took first place with Bob Bradshaw and Marcus Flint (BSSC) second. With the Goakes and Smith/Beachall on equal points the split went in favour of Smith and Beachall. Bradshaw and Flint were 3rd overall.
The Europe fleet also saw some tight racing but Mark Beck (OSSC) revelled in the light conditions to take 3 first places discarding a fourth in the final race. Alex Scoles (OSSC) finished second overall with a 2, 2, 1 scoreline, discarding a third, with Debs Crissell (OSSC) first lady and third overall counting 2, 3, 2 and discarding a fifth.
A great weekend of racing – the next open event is for the OK class, on 2 and 3 July. Racing will be in the morning each day and further details can be found on the club's website overystaithesc.org.uk – a great chance to get some practice in before the OK Nationals later that month!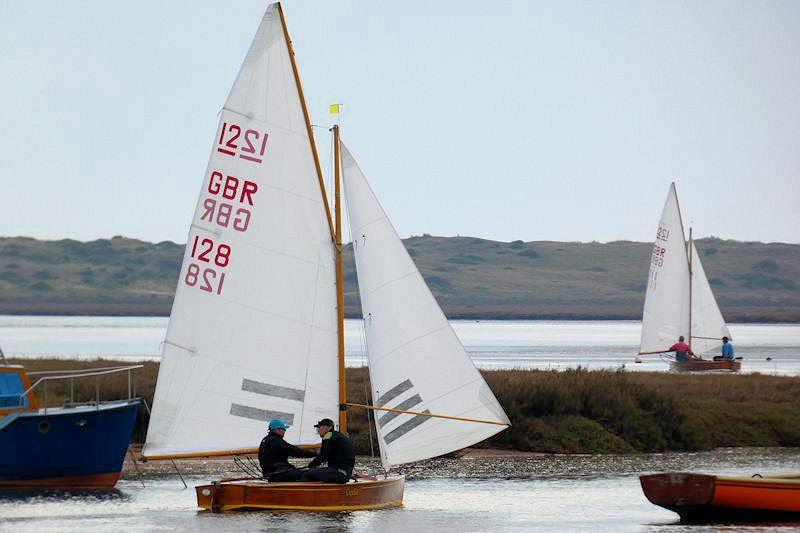 Capella wins – Light winds for Sharpie open meeting at Overy Staithe – photo © Jennie Clark
Sharpie Results:
| Pos | Sail No | Helm | Crew | R1 | R2 | R3 | R4 | Pts |
| --- | --- | --- | --- | --- | --- | --- | --- | --- |
| 1 | 128 | Alex Smith | Paul Beachall | 2 | 1 | ‑4 | 1 | 4 |
| 2 | 75 | Ben Goakes | Paul Goakes | 1 | 2 | 1 | ‑4 | 4 |
| 3 | 138 | Bob Bradshaw | Marcus Flint | ‑4 | 3 | 3 | 2 | 8 |
| 4 | 135 | Martin Read | Charlie Orton | 3 | 4 | 2 | ‑5 | 9 |
| 5 | 111 | Tim Ashby | Charlie Borthwick | 5 | 5 | ‑5 | 3 | 13 |
| 6 | 130 | Gus Marshall‑Andrews | William Fillingham | DNS | DNS | DNS | DNS | 21 |